Thick Thighs Save Lives - Denim/Orange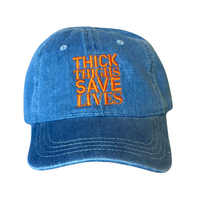 Thick Thighs Save Lives - Denim/Orange
Introducing the ultimate dad cap for every season and occasion, featuring our iconic slogan: "Thick Thighs Save Lives." Your new favorite accessory combines effortless style with a powerful message.
Crafted from a premium nylon blend material, this cap not only complements your thighs but also keeps you cool and comfortable throughout the day. We know you will have this as a go-to on those heavy leg days.
Thick thighs are not just a fashion statement, they're a way of life.
One size
Adjustable strap
Style: Dad Hat
Embroidered logo
Care: Hand wash in cold water. Do not twist or wring. Lay flat to dry. Do not iron.
You might be wondering:
While we strive to offer optimal coverage, the nature of how seamless wear is constructed may present some inherent challenges in achieving full opacity.

We have taken great care in selecting high-quality, durable fabrics that prioritize both comfort and functionality. However, it's important to note that certain lighting conditions and stretching of the fabric during various movements may cause slight translucency. Because of this, we do suggest wearing nude, skin toned underwear, preferably a thong.
When it comes to the perfect fit, we'd like to offer our advice! If you prefer a comfy and supportive feel that accentuates your figure, we recommend going with your true size.

For those seeking that extra "snatched" feel, we suggest considering sizing down. By choosing a size down, you'll experience a more compressive fit that enhances your curves and provides a flattering silhouette.